The Gate-and-Way internet module allows your Gate-and-Way server to act as an internet router for your LAN.

You can use only one ADSL or Dial-up account with your ISP to have all the enabled users on the LAN surfing the web.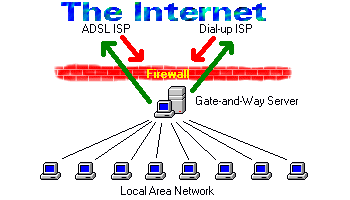 The integrated firewall will block any attack from the internet.
Only a single IP address (a single machine, i.e. the Gate-and-Way server) is exposed to the internet, so none of the client PCs will be "seen" outside your network.
The firewall also acts like a black hole for TCP/IP packets, so any attacker will believe that your machine is turned off or disconnected from the internet. You couldn't ask for anything better.
You can configure some different redundant internet connections, so if your ISP is having problems and can't give you access to the internet, you can choose another one to have a temporary connection without having to change any configuration on the client PCs over your LAN.
For example: if you configure an ADSL account and a spare Dial-up account, you can choose to connect your LAN to the Internet using the Dial-up one if the ADSL ISP's server is down or if your ADSL modem has been damaged.
If you want, Internet connection can be automatically started when the Gate-and-Way server is powered on and stopped when it is powered off.